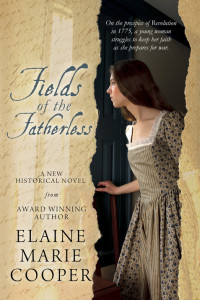 Perhaps you think you know the whole story. But what if the bloodiest battle on the first day of the American Revolution was missing from our history books? Would the sacrifices incurred on the streets and in the homes of the colonial patriots be forgotten? While the battles of Lexington and Concord are richly memorialized, Fields of the Fatherless is a novel that honors the families in Menotomy Village, Massachusetts, where the blood of more American and British soldiers was shed on April 19, 1775, than anywhere else that day. Based on true events. 
Synopsis
In the early months of 1775, war is brewing in the American colonies. Although frightened, eighteen-year-old Betsy Russell of Menotomy Village, Massachusetts, wants to be prepared in case of attack by the British troops.
Her father, prosperous farmer Jason, is the fourth generation of Russells on this land—yet their very rights as British Colonials are being stripped away one by one. Will the King of England take the Russells' land as well?
Tensions are growing here in the countryside west of Boston and the outbreak of battle seems almost a certainty. Jason desperately wants to protect his family—his wife, children and grandchildren—and their future. Betsy makes every attempt to be prepared for the worst.
But not even the American militia could have predicted what was about to occur—right on the Russells' doorstep. If Betsy loses everything she holds dear, are the rights of all the Colonists endangered?
(Based on a true story.)
Available at Amazon:
Paperback: Click here
Kindle:  Click here
Audio book: Fifteen Minute Preview