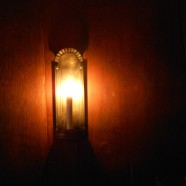 I will never forget the great Northeast blackout when I was eleven or so. It was an event that forever made me deeply appreciate Thomas Edison's light bulb invention.
Doing my homework at my bedroom desk that long-ago November evening, the lights began to flicker. I thought it was just my lamp bulb, but when I walked out to the hallway the light there was flickering as well. Within moments, everything was dark.
Those of us who were home already (it was about 5 p.m.) scrambled to find every single candle we could find: Decorative pillars, wax Santa Claus figures, formal tapers—no vestige of paraffin and wick was safe from our discovery.
We lit up each candle and the wondrous feel of bygone days illuminated each corner of our 1860's Massachusetts home. It was magical. And the best part was, I didn't have to finish my homework because it was so dark!
What was a unique and inconvenient experience for my family that night was, of course, the norm in Colonial America. Candles then were a necessary commodity that provided the only source of illumination in homes that were not just dark—they were pitch dark. No outdoor street lights were around to help someone's vision. The only other source of light was the hearth, which burned all day and night.
The very first in-house lighting in the northern and southern colonies was provided by pine knots (called candlewood) from fat pitch pine. These chunks of wood produced wonderful light but messy tar residue and a lot of smoke. Thus they were usually placed in the corner of the hearth on a flat stone. The saying was that a wise farmer would be better off starting out a winter without hay than a good supply of candlewood.
As the numbers of cattle increased in the colonies, the residents began saving the tallow residue from the animal fat to make candles. These waxy stalks were highly prized, not just for their usefulness but because of the difficulty in producing them in the home.
In my novel The Road to Deer Run, which was set in the 18th century, I described the arduous process:
The candle-making could not be delayed any longer. The women scurried to set up two large kettles over the fire, each pot containing water and beef tallow provided by a neighbor. The candle rods were strung with the long wicks for dipping into the hot kettles. The coated wicks were then set to dry on long poles across two chairs. The candles slowly grew in size as they were alternately dipped and dried.
It was an all-day event. The women transformed the bare wicks into the source of light that would provide illumination through the long winter nights.
No wonder Colonial women used their candles sparingly.
In Jack Larkin's The Reshaping of Everyday Life: 1790-1840, he describes illumination in the home:
During the day, Americans depended on direct sunlight entering through windows or open doors. They read, sewed, or did other close work near windows, and moved their tables and chairs to follow the sun around the house.
At night, most Americans walked in darkness between the flickering fire and the 'feeble circle of light' that Harriett Beecher Stowe remembered, made by "the dim gleam of a solitary tallow candle."
It's hard to imagine so much darkness.
But even worse to imagine is spiritual darkness that can blind us as we stumble into sin in this world. Jesus said, "I am the light of the world. Whoever follows me will never walk in darkness, but will have the light of life." John 8:12 (NIV)
Jesus also cautions those who follow Him to use that light rather than snuff it out:
"You are the light of the world. A city on a hill cannot be hidden. Neither do people light a lamp and put it under a bowl. Instead they put it on its stand, and it gives light to everyone in the house. In the same way, let your light shine before men, that they may see your good deeds and praise your Father in heaven." Matthew 5:14-16 (NIV)
Perhaps in the darkness of night, it is the easiest to see our need for illumination.
Photo taken at Storrowton Village Museum, West Springfield, MA